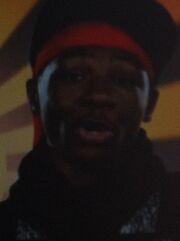 Shadow Fly's real name is Leroy Fly. Leroy claims that he is the ninja that saves everyone but in reality it's really Owen. Owen warns him to tell everyone he isn't a real ninja. Leroy tricks the ninjas into thinking he's kidnapped so he can capture them. The ninjas then defeat him and everyone finds out he is a fake by the ninjas changing his bilboard.
"Finish your rapping!"
This article is a stub. You can help Supah Ninjas Wiki by expanding it! Thanks!