We're Getting Mutants in the MCU - The Loop
Play Sound
"

When do we get our ninja suits?

— Owen in a silly sarcastic voice to Hologramps in (Pilot)
Owen Reynolds


General Information
Gender
Male
Age
15-16
Family
Unknown mother and father
Hair Color
Black
Eye Color
Brown
Ethnicity
African-American
Occupation
High school student (by day); ninja (by night)
Status
Alive
Appearances
First Appearance
Pilot
Last Appearance
The Floating Sword

Owen Reynolds is Mike's spontaneous and goofy best friend He is one of the three main ninjas. He also describes himself as "cool hat guy" in Season 2. 
Personality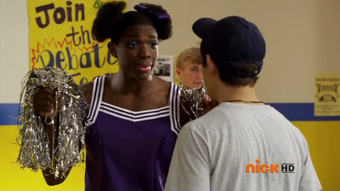 Owen isn't just in the Supah Ninjas for comic relief, he has quite a few tricks up his sleeves. He is geeky and funny. He has a sense of humor that he's used in many types of situations as well. But still, he is always there for Mike, and other people like Amanda. He can sometimes be a bit over-confident, but is a supportive friend with tons of courage.
Relationships
Childhood Best Friend/Partner In Crime/Classmate
Mike and Owen are life-long childhood friends. Owen knows a lot of embarrassing secrets about him and they usually enjoy spending time together while fighting crime as seen in Pilot. Throughout both seasons their friendship seems to grow stronger and they tend to be more reliant on one another depending on missions and types of assignments. It is shown in The Magnificent that they participated in a magician duo as kids.
Childhood Friend
Owen befriended James while Mike had broken his leg from the previous summer. He mysteriously disappeared after that summer. James had become a criminal and joined a group called the "Subsiders". Owen tries to get him to leave the group but James says he will stay with subsiders until it feels right to return to his family.
Friend
Owen seems to have a good interest in Martin even though most of the time he doesn't treat him the same way. Owen always tries to talk him into doing certain things even if he feels uneasy about it. Their relationship can be best described as a love-hate relationship.
Close Friend/Partner in Crime/Classmate
Owen and Amanda are close friends. They both tend to joke around together and make fun of one other at times. Amanda briefly believes that Owen likes her which causes drama in the group since Owen knows Mike likes her. Connor spread this rumor to her. Mike thinks they like each other but Owen says he doesn't like her in that type of way and wouldn't do that to his best friend since Mike likes her.
Good Friend/Helper in crime
In "Kid Q", Owen is paired with Quinton for a science fair project. After the ninjas defeat Wesley, Owen becomes friends with Quinton. When the Ishina destroy the dojo, Owen along with Mike and Amanda bring in Quentin and expose their true identities to him. While fixing the dojo, Quentin accidentally lets Two Ton Harley out of prison. After the ninjas defeat him, Owen apologizes to Quentin along with Mike and Amanda and invite him to be apart of their team.
Girlfriend
In Season 2, it's shown that Owen has a crush on Paloma Peru, the school news reporter who he finds adorable. They began dating in "Wallflower" after going on a date and began to grow closer in "M@yhem". Mike and Amanda thought Owen dating Paloma was a problem because she was investigating the ninjas identity but in the end, they apologize to Owen about Paloma when she states that the ninja's identities should stay a secret.
Best Friend/Training Instructor/Fighting Robot
Owen first meets Yamato in the cave and they become fast friends. Owen usually calls him tin man as a nickname seen in Pilot. They both tend to joke around with each other during training sessions too. Yamato surprisingly calculates Owen's weaknesses and often uses them against him during specific training sessions.
Memorable Character Quotes
Season 1
Subsiders (Episode)