"Finish your rapping!"
This article is a stub. You can help Supah Ninjas Wiki by expanding it! Thanks!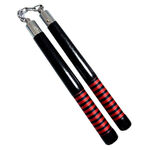 The nunchuck, also known as "chain sticks", are a traditional Japanese weapon. Formed by two rods of wood combined with a short chain, they are an extremely versatile weapon. It's the preferred weapon of Mike.