"

"I think it's funny, how you think you can just come up and talk to us,"

— Kelly referring to Mike and Owen
Kelly



Name

Kelly

Age

15

Occupation

Student, Cheerleader
Kelly is Amanda's best friend. She is a student at Ridgeway and a cheerleader like Amanda who is also very popular. She doesn't make an appearance in Season 2.
Personality
Kelly acts like a stereotypical cheerleader/popular girl: haughty, concerned about hanging around the right people, and overly confident. She disses Amanda's choice to hang with Mike and Owen as she finds them incredibly uncool/unpopular and geeky. Owen always seems to hit on her and she rejects his advances with cold remarks. She knows that Amanda likes Mike and always telling her that she does.
Relationships
Amanda - Kelly's best friend and cheerleading buddy. Kelly and Amanda are usually always together and at Amanda's locker. Kelly doesn't know why Amanda hangs out with Owen and Mike.
Owen - Kelly finds Owens attempts at flirting with her unamusing. She shows no interest in him because he is an outsider aka nerd. In Dollhouse, Kelly was kidnapped and under the control of Dollhouse (character). While under his control, she very interested in Owen when he came to rescue her. In DJ Elephant Head, Owen has a dream about her and he kisses her (although its just a dream).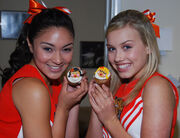 Mike - Kelly thinks of Mike as a nerd and doesn't seem to like him.
Cameron - Kelly is acquaintances with Cameron and tried to help him get Amanda back. Kelly had a crush on him. This was revealed in the episode, "Detention" when Amanda thought Cameron and Kelly were dating.
Notes
She was dismissed in season 2, their was no room for her. It is unknown what happened to her or she was mentioned.
"Finish your rapping!"
This article is a stub. You can help Supah Ninjas Wiki by expanding it! Thanks!
Community content is available under
CC-BY-SA
unless otherwise noted.